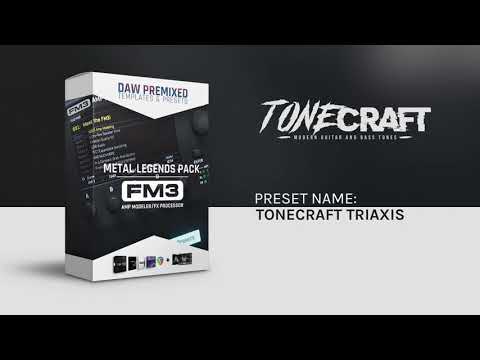 Metal Legends Pack for Fractal FM3
Add 2 or more of any items to your cart and save up to 50%!
Everything happens automatically. No need to enter any discount codes.
---
I created these presets on Fractal FM3, but I guarantee 100% functionality with Fractal FM9.

I keep the presets up to date, so make sure you are using the latest firmware!
For optimal tonal quality, ensure that the A/D Sensitivity is adjusted so that the input signal occasionally reaches the red LED on the device. This is the perfect setting, and now you're all set to make some great music!
🎸🤘 Metal Legends Pack for Fractal FM3: Unleash Your Inner Metal God! 🎚️🔥
Presenting the Metal Legends Pack, an epic collection of 8 album-ready presets and 20 custom IRs, exclusively designed for your Fractal FM3! 🌟🎵
Hardware Requirements:
Firmware:
Get ready to rock with these legendary presets:
TONECRAFT Diesel VH4
TONECRAFT Fried BE-100
TONECRAFT TriAxis
TONECRAFT Engl Powerball
TONECRAFT Engl Savage 120
TONECRAFT 5150 III
TONECRAFT FAS Brootalz
TONECRAFT JCM 800 Mod
And elevate your tone with these custom IRs (U1.0081-U1.0100):
TONECRAFT Brit 1
TONECRAFT Brit 2
TONECRAFT Brit 3
TONECRAFT Brit 4
TONECRAFT Custom 1
TONECRAFT Custom 2
TONECRAFT Custom 3
TONECRAFT Custom 4
TONECRAFT Custom 5
TONECRAFT Hybrid 1
TONECRAFT Hybrid 2
TONECRAFT Hybrid 3
TONECRAFT Hybrid 4
TONECRAFT Legacy 1
TONECRAFT Legacy 2
TONECRAFT USA 1
TONECRAFT USA 2
TONECRAFT USA 3
TONECRAFT USA 4
TONECRAFT USA 5
Get ready to unleash your true metal potential with the Metal Legends Pack for Fractal FM3! 🎶😈 Don't miss out – experience the ultimate metal tones today! 🎸🎵
🎸 Expertise and Experience
Acquiring Fractal FM3 and FM9 presets from Jaroslav ensures you're receiving a product created with extensive knowledge and understanding of tone shaping. Jaroslav's expertise in creating top-tier presets means you are not just paying for the presets, but also the cumulative experience and time invested into generating these unique and refined sounds. This level of professional input is a valuable asset for musicians or producers seeking to enhance their sound quality.
🎸 Variety and Flexibility
The presets from Develop Device offer a wide spectrum of sound profiles, catering to a broad variety of musical genres and styles. From warm blues tones to punchy metal riffs, or from sparkling clean timbres to fuzzy vintage vibes, there's a preset to match your creative needs. This extensive diversity ensures you have the right tone at your fingertips for every piece of music you create, facilitating your creative process.
🎸 Professionally Crafted Impulse Responses
Each preset comes loaded with professionally created Impulse Response (IR) cabinets. These IRs mimic the nuances of real speaker cabinets, providing you with the sonic richness and depth of a professionally mic'd studio setup right within your Fractal FM3 and FM9. These meticulously designed IRs contribute to an authentic and high-quality sound reproduction.
🎸 Continuous Updates
Purchasing presets from Jaroslav means staying up-to-date. Regular updates ensure your tones are always fresh and compatible with any firmware updates from Fractal Audio, the company behind FM3 and FM9. This guarantees smooth operation and the best possible audio quality, keeping your setup modern and optimized.
🎸 Dependable Support
Last, but definitely not least, buying from Develop Device means you can count on professional support. If you encounter any issues or have questions about the presets, you can expect prompt and knowledgeable assistance from Jaroslav. This way, you can concentrate on making music, rather than getting tangled up in technical troubleshooting.
This product is rated 5.0 of 5.0 stars.
It has received 3 reviews.