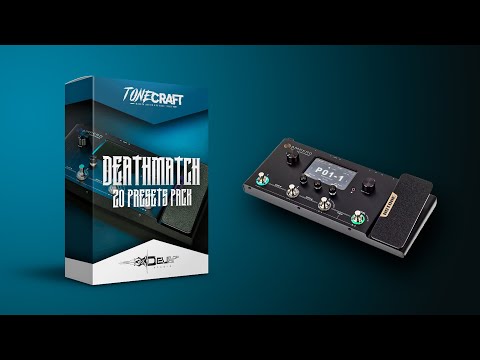 DeathMatch for HoTone Ampero
Add 2 or more of any items to your cart and save up to 50%!
Everything happens automatically. No need to enter any discount codes.
🔥 DeathMatch: Crush Your Sound with Extreme Presets 🔥
Unlock the full potential of your HoTone Ampero with DeathMatch, a collection of 20 bone-crushing presets inspired by bands like Whitechapel, The Ghost Inside, Thy Art Is Murder, After the Burial, Knocked Loose, Gojira, and more! If you're a fan of these heavy-hitters, this pack is the perfect choice for you.🤘🎸
✨ Key Features ✨
🎚️ 20 Unique Presets: Inspired by some of the heaviest bands in the scene.
🌐 20 Custom IRs (WAV): Deep-tuned impulse responses for a powerful, distinct sound.
🔊 FRFR Cabinet Compatible: Fully optimized for use with FRFR speaker systems.
🎛️ Easy Integration: Quickly load presets into your HoTone Ampero setup.
🔧 Hardware Requirements:
⚙️ Firmware:
Before importing presets, make sure you have backed up your existing presets. The import will overwrite the existing presets.
Get ready to dominate the heavy music scene with the DeathMatch preset pack for HoTone Ampero. With 20 deep-tuned presets and 20 custom IRs, your music will pack a serious punch that's impossible to ignore. 🤯🔊
Elevate your sound with the DeathMatch preset pack today and start crushing the competition! 🎸🔥
This product has no reviews yet.