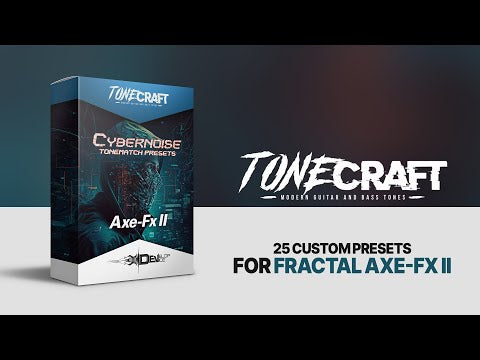 CyberNoise for Fractal Axe-Fx II
Add 2 or more of any items to your cart and save up to 50%!
Everything happens automatically. No need to enter any discount codes.
🎸 Introducing the CyberNoise for Fractal Axe-Fx II! 🎶
Unleash your inner rockstar with this 🔥HOT🔥 preset pack for your Fractal Axe-Fx II! Perfect for modern rock, metal, djent, and other killer subgenres, CyberNoise is designed to elevate your sound to the next level. 😎
Get ready to rock with 25 mind-blowing presets and custom cabinet IRs, each boasting 3 dynamic scenes - clean, rhythm, and lead - crafted to make your music soar.🚀 Discover the power of deep-tuned presets that will leave your audience begging for more! 🤘
CyberNoise pack is 💯% compatible with FRFR cabinets, so you can jam out with confidence! 🎛️
𝗛𝗮𝗿𝗱𝘄𝗮𝗿𝗲 𝗥𝗲𝗾𝘂𝗶𝗿𝗲𝗺𝗲𝗻𝘁𝘀: Fractal Axe-Fx II
The presets are created on my Axe-Fx II XL+, so if you own a lower version Axe-Fx II unit, you need to convert the presets using the FracTool utility. In this case it works smoothly.
𝗙𝗶𝗿𝗺𝘄𝗮𝗿𝗲: ARES 2.0
Don't wait! Amplify your sound today with the CyberNoise for Fractal Axe-Fx II and become the ultimate rock sensation! 🌟🎚️
This product is rated 5.0 of 5.0 stars.
It has received 4 reviews.