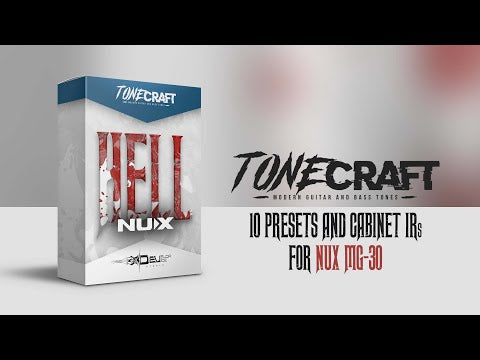 Hell for NUX MG-30
Add 2 or more of any items to your cart and save up to 50%!
Everything happens automatically. No need to enter any discount codes.
🎸 Hell for NUX MG-30: Unleash the Power of Your Tone 🎸
Presenting the Hell for NUX MG-30 collection, a 🔥sensational🔥 new pack of 10 meticulously designed presets for your NUX MG-30! Explore a diverse sonic landscape and ignite your creative spark with these outstanding presets. 🤘
Experience Unrivaled Versatility with 10 Deep-Tuned Presets and 10 Custom WAV IRs This exclusive pack delivers 10 ingeniously created presets, each with 2 scenes, perfect for conquering a wide array of genres and playing styles. 🎶 Included are 10 custom WAV impulse responses, expertly selected to provide the most captivating sound experience. 😎
💯% Compatibility with FRFR Cabinets Fear not, tone enthusiasts! Hell for NUX MG-30 presets are fully compatible with Full Range Flat Response (FRFR) cabinets, ensuring a seamless integration for your live performances and studio sessions. 🎚️
Hardware Requirements:
Firmware:
🌟 Why Choose Hell for NUX MG-30? 🌟
🎛️ Unmatched versatility with 10 unique presets (2 scenes each)
🎚️ 10 custom WAV IRs for a rich, immersive sound
🎤 Seamless integration with FRFR cabinets
🌐 Compatible with NUX MG-30 Firmware v4.0.3
Elevate your guitar game and leave your audience in awe with the Hell for NUX MG-30 collection! 🚀 Don't miss the chance to enhance your tone with these exceptional presets and custom WAV IRs. Grab your pack today and experience the revolution! 🌟
This product is rated 5.0 of 5.0 stars.
It has received 1 review.