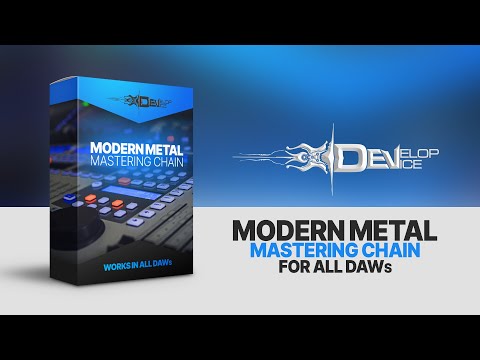 Modern Metal Mastering Chain
Add 2 or more of any items to your cart and save up to 50%!
Everything happens automatically. No need to enter any discount codes.
Revolutionize Your Metal Music with the Modern Metal Mastering Chain! 🔥
Experience a modern, polished sound in your metal music productions with our state-of-the-art Modern Metal Mastering Chain, meticulously crafted by sound engineering professional, Jaroslav Holub. This cutting-edge collection of plugins is your key to bringing a razor-sharp sound and sophisticated feel to your metal music, irrespective of the genre! 🎶🔊
Whether you're fine-tuning the raw energy of thrash metal, amplifying the atmospheric echoes of doom metal, or enhancing the symphonic harmonies of power metal, the Modern Metal Mastering Chain is a game-changer! This chain is genre-agnostic, making it the perfect fit for all your metal music endeavors. 🎛️💥
Versatile, Compatible, and Ingenious 🌐🔌
Our Modern Metal Mastering Chain seamlessly integrates with all DAWs that handle third-party VST plugins, promising versatility and compatibility like no other.
Now, let's dive into the heart of the matter – the power-packed plugins (must be purchased separately):
Waves PuigTec EQP-1A: For smooth, silky EQ adjustments. 🌈🎛️
Soundtheory Gullfoss: Intelligent, automated equalizer adapting to your mix. 🧠⚡
FabFilter Pro-Q 3: Ultimate EQ finesse with up to 24 bands, dynamic EQ, and more. 🎚️🎧
IK Multimedia T-RackS Bus Compressor: Glue your mix together, control dynamics, and add punch. 💪🎵
Plugin Alliance bx_townhouse Buss Compressor: Add analog richness and character. 💎🔊
FabFilter Saturn 2: Elevate your sound with multi-band saturation and distortion. 💥💫
Waves S1 Stereo Imager: Perfect stereo field placement. 🎼💫
SubMission Audio Flatline: Maximize digital loudness without compromising dynamics.📈🔈
Sonible smart:limit: Adaptive limiting with one-button intelligence. 🍭🎶
Unleash Your Creativity and let your metal music roar louder and shine brighter with the Modern Metal Mastering Chain by Jaroslav Holub. 💣💥
This product has no reviews yet.